Cristian Lucchesi's Personal Page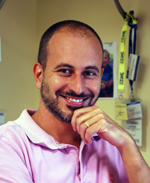 Scientific Interests
Scientific interests are in the area of Information Systems, databases, conceptual modelling, user interfaces, web applications, information retrieval and software engineering (with emphasis on Agile software development).
Current Projects
ccTLD ".it" EPP
Development of the Italian management system used for internet domain names registrations. Domain names are managed by
ccTLD ".it"
Registry.
Dns validation service
Service used for DNS configuration validation of Internet domain names, it's used in the Italian domain names registration system which uses the EPP protocol.
The service uses a JMS queue to receive the validation requests and a multithread server development in Java to receive the requests, validate them and store the responses in the proper JMS queue.
Registry billing system
Software for management of billing data concerning the registration operations of Italian internet domain names managed through the EPP protocol.
The system will allow the integration of billing data with the software used by the
CNR
.
Publications
Seminars & Courses
Seminars
Devoxx 2008 in a breeze - IIT internal seminars useful to show the upcoming technologies and news presented Devoxx 2008
"Web Application Engineering - Sviluppo agile delle applicazioni web: interdisciplinarietÓ e progettazione centrata sull'utente" (in italian)
Courses
I CMS nell'evoluzione del Web, course (in Italian) for registrars of the CCTLD ".it" registry
"Le Tecnologie Web", course (in Italian) for registrars of the CCTLD ".it" registry

April 11-13, 2007, Napoli
March 28-30, 2006, Padova
April,27-29, 2005, Palermo
November 8-10, 2004, Venezia
June 22-24, 2004, Pisa

"Corso di Tecnologie Web", course for CNR staff, December 1-5, 2003, Pisa.
Past projects
Mida
Mida, which stand for "Management Interface for Domain Administration", is a Web application used by ccTLD ".it" registry to manage all the internet domain names data.
The software has been realized using the
JBoss Seam
framework and it's integrated with others registry procedures through Web Services (using
Apache Axis2
).
Java Epp Client
Development of the epp client library (following rfc 3730). It's used in new synchronous registration system of the ccTLD ".it" registry. Client library has been realized using
Jakarta HttpClient
and
Apache XmlBeans
.
Test suite ".eu"
Black-box test suite for testing the new domain name registration system for
.eu
domain names. Test suite has been realized using java,
junit
and
junitperf
.
www.eurid.eu
Content Management system for the
EURid
web sites. This is a multilanguage CMS whichs permits to manage all the web content data, it's based on the framework
Zope
/
Plone
.
The software user manual has been published as IIT Internal Note
IIT B4-04/2004
.
Urpinsieme
Collaborative portal system containings informations about the URPINSIEME project, a project for integrated communication between 9 public administrations: CNR, Ministero dell'Economia e delle Finanze, Ministero delle Infrastratture e dei Trasporti, Ministero dell'Istruzione, UniversitÓ la Sapienza, UniversitÓ Tor Vergata e UniversitÓ Roma Tre.
Iraq Virtual Museum
This project expected to create and put online an Iraq Virtual Museum for the conservation and catalogation of Iraq epigraphic materials. The main project goal is to fully restore the artistic heritage available in Iraq permitting all the people to see it through the web.
The module I've contribuited to was related to information architecture based on XML schemas, the integration with security tools, digital libraries and web applications development; please find more informations at
cnr web site
.
ArchEle
Archele, a web based acquisition, search and retrieval system for the documents of
ccTLD ".it" registry
. The application has been realized using the application server
Zope
.
Project results has been published in an
article
presented at Europython 2004.
The client sources are available under GPL license, an example skin which could be used with Plone and a compiled version of the client are available
here
.
New Urp-CNR
Web application used for management of the news of the CNR URP. It permits to publish news by means of a workflow, users, permissions and web interfaces. It has been realized using Zope/Plone.
Question-How
QUESTION-HOW project (IST-2000-28767). The specific workpackage has been XML/RDF Digital Libraries; the projects concerns the creation of tools useful to query document collections structured in XML. In order to build the semantically correct query, the system could generate query based on the user profile and the document structure (described in XML Schema and annotated through RDF).
Curriculum Vitae
Please find more information about myself in my
curriculum vitae
(in italian).